What is Shoutcast Reseller Hosting?
Shoutcast reseller hosting allows individuals or companies to create and sell their own internet radio hosting services using the Shoutcast or Icecast platforms. Shoutcast and Icecast are both popular software options for streaming radio over the internet, however Shoutcast remains the more popular choice for online radio stations.
With shoutcast reseller hosting, users get access to a web-based control panel that allows them to manage their hosting packages, set prices, and create and manage customer accounts. This type of hosting is ideal for entrepreneurs and web developers who want to create their own internet radio hosting businesses without having to invest in expensive infrastructure and technology
Unlimited Bandwidth Shoutcast Reseller Plans
Package
Listeners
Storage
Control Panels
Bandwidth
Max Kbps
Upgradable

SR 250

Shoutcast and Icecast Reseller w/ 250 listeners.

250
50GB
10
Unlimited
320Kbps

SR 500

Shoutcast and Icecast Reseller w/ 500 listeners.

500
100GB
15
Unlimited
320Kbps

SR 750

Shoutcast and Icecast Reseller w/ 750 listeners.

750
150GB
20
Unlimited
320Kbps

SR 1000

Shoutcast and Icecast Reseller w/ 1000 listeners.

1000
300GB
25
Unlimited
320Kbps
Unlimited Listener Shoutcast Reseller Plans
Package
Bandwidth
Storage
Control Panels
Listeners
Max Kbps
Upgradable

SR Unlimited 1

Shoutcast reseller with unlimited listeners and 200 GB bandwidth.

200GB
300GB
Unlimited
Unlimited
320Kbps

SR Unlimited 2

Shoutcast reseller with unlimited listeners and 750 GB bandwidth.

750GB
500GB
Unlimited
Unlimited
320Kbps

SR Unlimited 3

Shoutcast reseller with unlimited listeners and 1250 GB bandwidth.

1250GB
750GB
Unlimited
Unlimited
320Kbps
Included with all Shoutcast Reseller Packages
Centova Cast Control Panel
The most advanced internet radio control panel
Centova Cast is most likely the most popular web-based control panel used for managing and broadcasting online radio stations. The user-friendly interface simplifies the process of setting up and managing your station.
Another advantage to Centova Cast is that while providing an easy to use interface it also offers advanced features for sound quality, playlist management, and listener statistics, This allows you to host your radio station with everything you need in one easy to navigate location. It also supports a wide variety of audio formats, including MP3, OGG, AAC+, and more.
Overall, Centova Cast is a reliable and powerful solution for anyone looking to start an online radio station, with customizable features, easy setup, and an intuitive control panel interface. Whether you are looking to launch a new station or to take your existing one to the next level, Centova Cast is a proven, reliable, and feature-rich option to consider.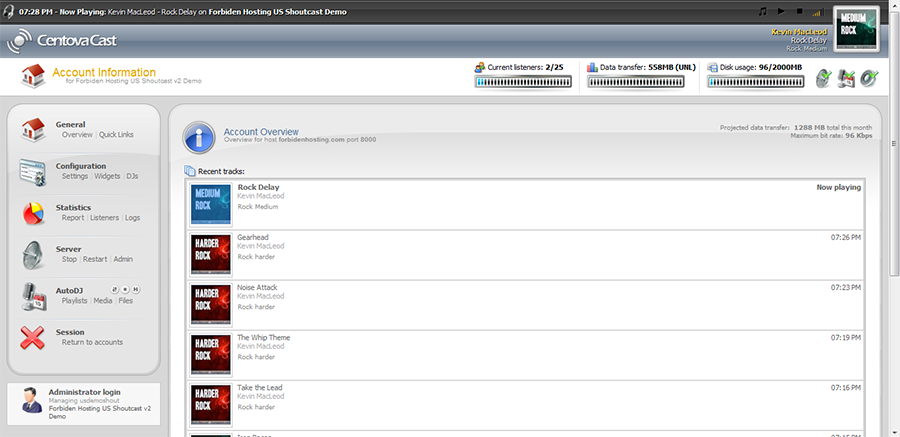 Real-time listener statistics
Listener statistics delivered to you in real time
Real-time listener statistics provide critical insight that can help internet radio stations adapt their strategies and make informed decisions. With the ability to see how many people are listening, for how long, and where they're tuning in from, radio stations, podcasters, and advertisers can fine-tune their content and campaigns to better resonate with their target audience.
Centova Cast's real-time data tools gives broadcasters and advertisers an advantage in rapidly changing markets. With real-time listener statistics, broadcasters can make immediate decisions about content that attract and maintain a large number of listeners.
Real-time data is particularly useful for live content, such as radio shows or sporting events. Being able to see listener statistics in real-time allows producers to make adjustments and tailor their shows for the highest audience engagement. This helps to increase audience retention and allows broadcasters to better serve their listeners, ultimately driving growth and revenue.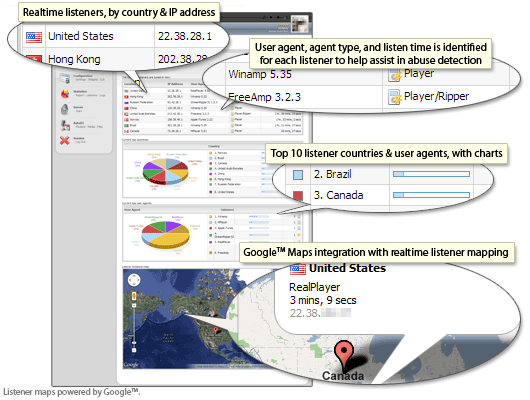 In-depth track popularity data.
Tune in, tune out, performance and airtime data.
Centova Cast provides you data on tune ins, tune outs, performances, and airtime. Tune ins refer to the number of times people start listening to a particular song, while tune outs refer to the number of times people stop listening to that same song. This data is key to knowing what tracks listeners are "NOT" listening to.
Performances can also be used to track a song's popularity, as they provide insight into how often and how well a song is being played in live settings. Venues and festivals often release their lineups, giving fans a chance to see which artists and songs are in demand. Similarly, radio stations and music charts also reflect performer popularity, with airtime being a key indicator of which songs are getting the most attention./p] Collectively, tracking tune ins, tune outs, performances, and airtime can provide a well-rounded view of a track or song's popularity. This information can be used by music producers, marketers, and fans to understand which songs are resonating with listeners and to make more informed decisions about future releases and performances.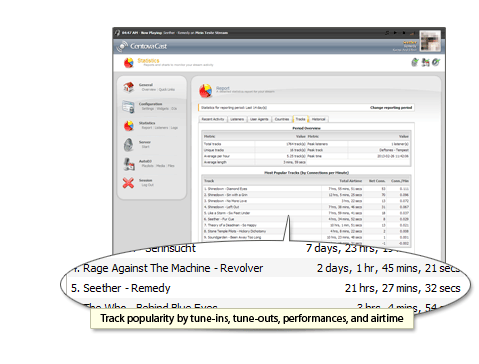 Easy to read historical listener data.
Historical listener, minutes and bandwidth statistics.
Easy-to-read listener statistics provide information about the number of people who have listened to your audio content. The Centova Cast listener statistics page provides insights into listener demographics, such as location which can help inform future content creation.
Minutes listened is an important metric that indicates how engaged your audience is with your content. High minutes listened typically suggests that your content is valuable, engaging, and has managed to retain listener attention./p] Bandwidth statistics helps in understanding how much bandwidth your station consumes. This can be critical, especially if you are on a limited bandwidth plan that charges for overages. Regularly reviewing your bandwidth usage can help you predict future needs and avoid costly surprise overages.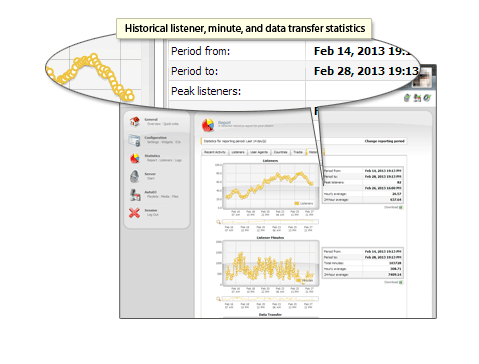 FAQs
Have A Question?
If you can't find the answer you are looking for our support is just an email away.
How long have you been in business?
Forbiden Hosting has been providing reliable services since early 2008.
Which payment methods are available?
We accept payment via PayPal, credit/debit card & cryptocurrencies.
Which methods of support do you provide?
You can contact support via email, ticket and live chat.